Cloud Services
What Is Cloud Computing? Why Should You Care?
Many of our clients have been asking about Cloud Computing. Many are confused by what it means and want to know if Cloud Computing is something they should incorporate into their business. It's confusing because there is no commonly accepted technical definition for Cloud Computing. It's really just a jargon term commonly used to describe the recent trend for businesses to move some (or all) of their computer data and applications from their on-premise servers to servers hosted by large data centers out in 'The Cloud'.
One example is Microsoft's Office 365 subscription service. Office 365 hosts business e-mail, shared documents, calendars, contacts, and much more on their servers out in 'The Cloud'. Users can easily access their Outlook data and Office applications from anywhere on just about any device (i.e. PC, smartphone, iPad, laptop, MAC, etc.).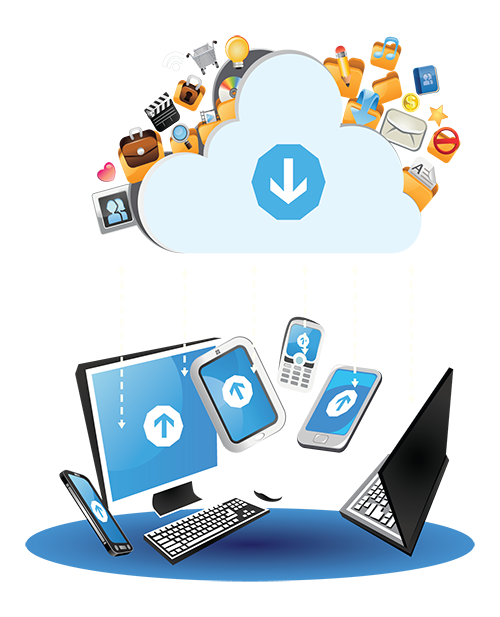 What Are The Benefits Of Cloud Computing?
Many vendors promise that you will see huge savings in your IT expenses by moving your data to the Cloud. Even though there can be some substantial cost saving opportunities with Cloud, there is not always a big savings when you look at the total cost of ownership for your technology investment. It's important to consider the benefits and risks carefully. Some of the possible benefits include:
Eliminates the need for costly server applications and hardware. A good example is eliminating a Microsoft Exchange mail server.
Frees you to access applications from any device and any location. All you need is an Internet connection.
Cloud applications are accessible from practically any device and location
Built-in disaster recovery and business continuity for most Cloud Data Centers
Only pay for what you need and use.
Is Cloud Right for My Business?
Some things, like e-mail for example, are great in the Cloud. Other applications and shared data, for example, may not be a good fit for the Cloud. We want every one of our clients to fully understand all the benefits, the possible risks, and the total cost of maintenance before they decide to move any of the data network to the Cloud. Want to learn more about Cloud Services? Download Our FREE REPORT
5 Critical Facts Every Business Owner Must Know Before Moving to the Cloud.
Just complete the form above to get instant access to this valuable report. If you think your business might be a good fit for Cloud Services, also check the box on the form to request a Free Cloud Readiness Assessment and one of our engineers will contact you.